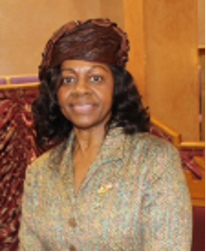 Our First Lady
Minister Yvonne Blackwood
Born Yvonne Ionie West on the island of Jamaica, West Indies to the late Pastors Ivy West and Ezekiel West migrated to London England at the age of eleven to live with an Aunt. She was baptized in the name of Jesus Christ in 1967 under the pastoral ship of the late Bishop Anderson in London England. In 1969 Sister West relocated to the United States of America and worshiped with the late Bishop Picket, in Brooklyn New York, where she was further nurtured and grew in the anointing of the Lord.
The hand of the Lord could be seen as evident in the life of this woman of God even from the young age of fourteen. She would exhort the Word and demonstrate passionate and vibrant worship, pulling other young people into worship. Dr. Blackwood grew in the ministry and served in many areas, she was installed as President of the Women's Department for the New York Diocese, of the Rehoboth Churches, where she worked tirelessly to enhance the women in the ministry. Dr. Blackwood worked alongside her husband Bishop Blackwood at the New Jerusalem Church in Queens N.Y. which they started in 1978. She served in the past as Women's President, Choir Director, and Sunday School Teacher and continues to teach Sunday school. Dr. Blackwood was mandated for ministry and was consecrated to the office of Evangelist. In September 2006 she was also elevated to the office of Minister, by Bishop Blackwood; she continues to serve alongside her husband to fulfill the mandate and calling that is resting on her life. Dr. Blackwood is a fervent prayer warrior, and intercessor, birth out through prayer; she understands the power of prayer. Dr. Blackwood is the wife of Bishop Altamont Blackwood, married for 48 years, they have three wonderful children, Christopher, Anthony, and Krystal, and they are also blessed with eight beautiful grandchildren Christian, Cayla, Chelsea, Chloe, Corey, Aaden, Austen, and Aaron. By profession, Dr. Blackwood is a Registered Professional Nurse and worked as Clinical Nurse Manager in the Psychiatric inpatient unit of The Jamaica Hospital Medical Center. She is now retired after service for 38 years. Academically she holds a Bachelor of Science degree in community health. Dr. Blackwood also holds a Bachelor of Theology Degree, Master of Theology Degree, and Doctor of Theology Degree from The New Greater Bethel Bible Institute, and Anchor Theological Seminary.
Dr. Blackwood has traveled throughout the United States and internationally preaching the Gospel, to win souls for the Kingdom. Her passion is to empower women to become all they can be in the Kingdom, and wage war against the kingdom of darkness for the souls of mankind. Dr. Blackwood's motto is and will always be "I can do all things through Christ which strengtheneth me".